WEEK 4!
Dark Match: Jimmy Yang, Marcos and Cheech over Mike Mondo, Marty Scurll and Mark Haskins – 7 mins
Segment 1: Foley in ring
-Foley welcomes the crowd to the show, says tonight is a Coronation preview, we will have several matches previewing the PPV. Most importantly, our main event will be John Cena and Kazuchika Okada vs. Daniel Bryan and Hiroshi Tanahashi in a huge tag match. - 4 minutes
Segment 2: Inner City Machine Guns(Ricochet and Rich Swann) vs. Jay Lethal and TJP
-ICMG win clean – 10 mins
Segment 3: Renee Interviews Matt Sydal
-Renee asks Matt if he found a partner for tonight's match against Zayn and Hulk. He said for whatever reason people seemed to be avoiding him backstage and he could not find one. Renee says she spoke to Mick Foley earlier, and Mick said if Matt did not find a partner, which he was pretty sure he wouldn't, that he would team with Zayn's opponent at Coronation, La Sombra. Matt is not happy about this. - 3 minutes
Segment 4: Sami Zayn and BxB Hulk vs. Matt Sydal and La Sombra
-BxB Hulk gets another flash pin on Sydal – 12 mins
Segment 5: Aftermath
-Sydal sucker punches BxB hulk, but is then chased away by Zayn and his own partner La Sombra – 3 mins
Segment 6: Renee interviews Daniel Bryan
-Bryan says he hopes to scope out Okada in tonight's tag. Renee asks if he would rather face Cena or Tanahashi in the finals, Bryan says he can beat whoever he faces but would be honored to wrestle Tanahashi – 3 minutes
Segment 7: Cody Rhodes w/ Dusty vs. KENTA w/ Nana vs. Harry Smith w/ Hoyt
-The 3 managers cancel each other out and no interference takes place. Smith pins cody with a powerslam – 13 mins
Segment 8: Del Rio/Nakamura CONTRACT SIGNING~!
-They both sign, Del Rio puts Nakamura through the table. - 8 minutes
Segment 9: The Embassy and Tanahashi
-Backstage, the Japanese Embassy approaches Tanahashi. Nana says if he joins the embassy Japan will have all the gold after the ppv. He says KENTA/Marufuji will win tag titles, and he can guarantee Tanahashi would win the BWF title with the help of the Embassy. Tanahashi respectfully declines then walks away. Nana is not happy. - 3 minutes
Segment 10: Mick Foley's office
-Magnus comes in, complaining about not being booked in Dixieland matches. Mike Bennett comes in with Maria, he hasn't been on TV yet and is all mad and stuff. Foley tells them to shut up and suggests if they want to get booked maybe they should for a tag team. - 3 minutes
Segment 11: Video Package hyping Cena/Okada vs. Tanahashi/Bryan – 3 mins
Segment 12: Cena/Okada w/ Layla vs. Bryan/Tanahashi
-Okada pins bryan after interference from Layla – 20 mins
Segment 13: After the match
-Bryan pushes Okada, unhappy with the ending of the match. It doesn't take long for this to turn into a WILD 4 MAN PULL APART BRAWL~!!! WE'LL SEE YOU AT CORONATION FOLKS!!! - 5 mins
Dark Main Event: Shinsuke Nakamura, Hirooki Goto and Katsuyori Shibata over Alberto Del Rio, Magnus and Mike Bennet – 10 mins
----------------------------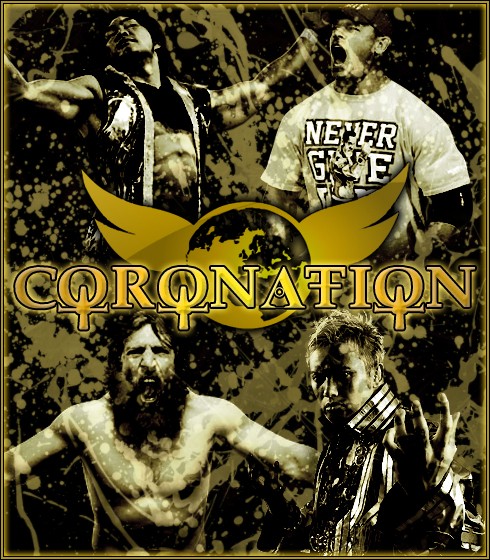 BWF CORONATION!
LIVE THIS SUNDAY ON PAY-PER-VIEW!
"BEST IN THE WORLD" TITLE
Winner of Cena/Tanahashi vs. Winner of Bryan/Okada
"KING OF FLIGHT" TITLE
Sami Zayn vs. La Sombra
"BEST IN THE WORLD" TAG TITLES
Japanese Embassy(KENTA and Naomichi Marufuji) vs. Cody Rhodes and Goldust vs. KES(Lance Archer and Harry Smith)
REMATCH
Alberto Del Rio vs. Shinsuke Nakamura
JUST ADDED!
Matt Sydal vs. BxB Hulk
WINNERS ADVANCE TO THE MAIN EVENT
John Cena vs. Hiroshi Tanahashi
Daniel Bryan vs. Kazuchika Okada