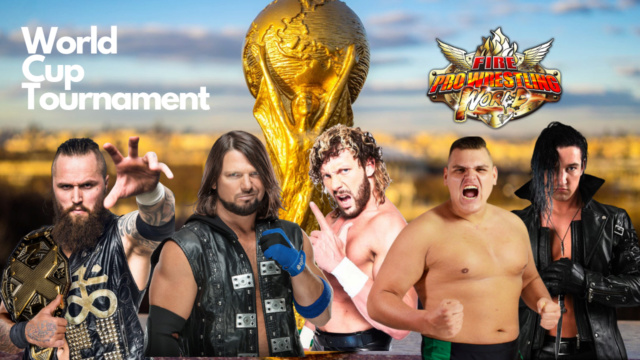 MAIN EVENT - WORLD CUP FINALS
??? vs. ??? vs. ???
WOMEN'S TITLE - STEEL CAGE GRUDGE MATCH~!

Awesome Kong(C)(Joejr67) vs. Taryn Terrell(Vilsvik)
FIFTY-MANIA PREVIEW FACTION WARFARE MATCH~!
Team Zodiacking: Thanos, Bane, Austin Aries and Ronda Rousey vs. Team Josh: Bruiser Brody, Cactus Jack, Jack Evans and Lita
LOSERS BRACKET PUNISHMENT - BARBWIRE DEATH MATCH
The Mex-American Alliance: AJ Styles(SBR), Samoe Joe(Joe5150) and LA Park(Genmar) vs. The Foreign Fanatics: Cesaro(Swarles), Buddy Murphy(Rudeboy) and Haku(Vipes)
SPECIAL ATTRACTION GRUESOME RULES MATCH
New Jack(jball) vs. Minoru Suzuki(Nikk)
FLIPZ
Teddy Hart(Skiff) vs. Neville(Zaibatsu) vs. King(Wucln)
WORLD CUP SEMIFINAL
Jumbo Tsuruta[JPN](Spudz) vs. WALTER[AUT](BTF)
WORLD CUP SEMIFINAL
Aleister Black[NED](Grant) vs. Fit Finlay[NIR](Joejr67)
WORLD CUP SEMIFINAL
Kenny Omega[CAN](O1) vs. Jay White[NZL](Erdi)
MONDAY~! 10 PM EDT~!
http://www.twitch.tv/swarles
This will be right after me and nikk do our TNA TEW LP at 8
http://www.twitch.tv/letsplaytew